Life in Kenya can be hard no matter who you are, but especially so for the working poor.  I frequently get asked "Why help those people over there–when there are so many struggling families right here in the US?"  I've given many answers over the years, but I suppose the answer I always come back to is simply "Because I can".  It seems like that reality always leaves me with the concrete choice:   Do what I can, or tell myself something to feel OK not doing what I can.
Anne and I have spent our careers and adult life helping the vulnerable members of our community here and have no plans to change that.  Yet coming along side Kenyan friends and the children and families in Kiang'ombe is different.
Teachers in Kenya earn a decent wage by local standards, around $300 per month.  That comes out to just under $2 per hour. The working poor survive on far less, $100 – $150 per month is a typical wage: $0.65 – $0.95 an hour.  Most of the families in Kiang'ombe earn much less.  The remarkable thing is that basic goods / services like food, water, cooking fuel, gasoline, transportation costs, electricity, school, etc … are basically the same price as here in Portland, some even more expensive.  There is also NO SOCIAL SAFETY NET.  No child welfare department, no government housing assistance, no Wic, no shelters, no mental health system, no food stamps, no public health insurance, no fully free public school, no clothes closets, absolutely nothing.  If you can't pay for something up front, in cash … you don't get it.  Families must make their own way and carve out a life for themselves or die trying.  Many in Kiang'ombe are not able to succeed in meeting the most basic needs for their children, while working their hardest to do so.
That is the difference.
At Ameena Project, everyone who has gotten involved has decided that they too can work for change, work for justice, work for the dignity and opportunity that all people deserve.  What do you earn?  How much is 1 hour of your work worth?  In Oregon the current minimum wage is $9.10, I'm guessing most people reading this earn even more than that.  Would you consider spending 1 hour of your work a month to come along side the children and families Ameena Project serves in Kiang'ombe.  With just 1 minimum wage hour a month we could provide 75 meals to kids who really need it.  What could your 1 hour do?  Please consider donating what you earn per hour once a month by signing up for a recurring donation at http://ameenaproject.org/how-you-can-help/.  We all work 160 or more hours a month, just 1 invested in the lives of children and families in Kiang'ombe will do so much. 
Ian
He is the perfect example of everything we hope to achieve at Ameena Project. The doors of opportunity and hope have been opened for young Kennedy because all of you believed he deserved it and put your time, talents, and resources to work for his sake. Kennedy was one of our first students and finished the program successfully to enter the local school system healthy, eager, and ready to learn.
He rushed up to greet me with a huge smile and walked me by hand to his humble home to show off his proud achievement. Kennedy earned a nearly perfect score on his annual exams this year ranking him at the very top of his class.  1 of 6 children in his family he has overcome insurmountable barriers and is solidly on his way to becoming everything he was made to be.  
Little sister zainabu is following in his footsteps attending  Ameena Centre daily building the foundation she will need to thrive. His mom volunteers at the project and works with our staff to learn new ways to manage her scarce resources, family, and home.  Watching her children come alive to health, opportunity, and education is now a reality she had never before even dared to dream possible.
One day Kennedy will change the world for others, as you have changed the world for him.
Meeting Day with the Community and Parents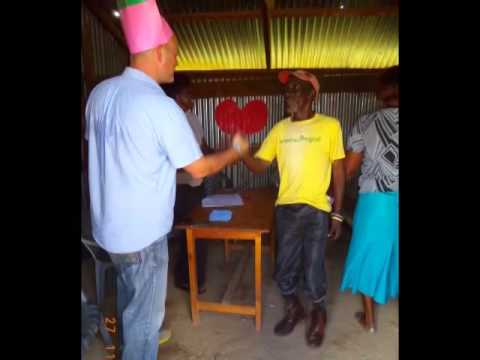 Some Shots from Class Time and the New School Site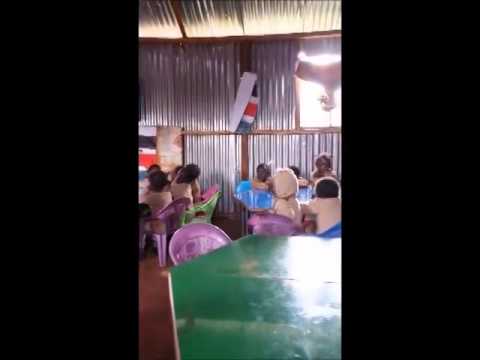 In case you missed it you can click HERE to read it.  You can also sign up on the bottom of the home page to receive it direct to your email.
This weekend ultra-endurance athlete Christian Isakson put on three events to raise funds and awareness about Ameena Project.  It was a whirlwind at times and was truly humbling to watch him pour himself into each individual event and each person who attended.  Ameena Project people were there in the background and left deeply grateful for Christian, his friends at More Than Sport, and the remarkable way Friends of Ameena have been woven together to make it all possible.  Two worlds crashed into each other in the best of ways.  Elite athletes who live in the spotlight turned that light in another direction to light up the lives of some of the most needy and forgotten children in our world.   They explained that the real champions serve others and challenged everyone to courageously take risks and find their own place to do more.  We are all built to win.  We are all built for greatness.  We live out our innate purpose when we put our needs aside to help another.  Listen to Christian express how sport and service come together in his life:   Christian's Thoughts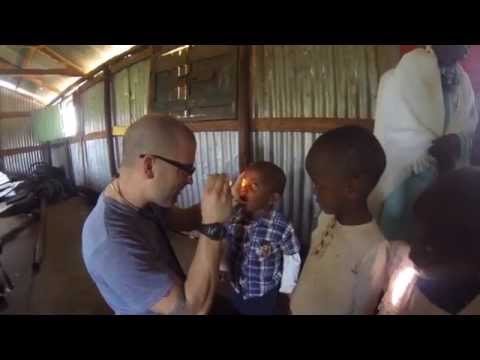 Last month the board of directors got together and reviewed 2013 goals, operations, and financial policies.  Our monthly recurring contributions have remained quite consistent and continue to be several hundred dollars per month below our actual operating costs.  However, our overall base of support has grown as people share the Ameena Project story and so our cash reserves continued to creep up over the course of the year.  At the end of 2013 we are no longer worried about our ability to continue  operations in Kiang'ombe and look forward to implementing new and expanded initiatives in 2014. 
Since the beginning, Ameena Project has maintained a primary goal of 100% financial efficiency, meaning, we want every single penny donors contribute to be used meeting the needs of the children we serve.  This is a core principle of our work and we hope to be able to continue meeting this goal long term – to us it just makes sense.  In a world where helping seems to have become it's own industry , we hope to stand out as one place where people know for sure that their money makes a difference where it matters … all of it.  Being 100% volunteer run and doing everything possible to minimize domestic expenses has helped us achieve this goal but there are still costs to doing business.   There are bank fees, PayPal fees, international transfer fees, costs associated with web hosting, fundraising, business software, etc…  To date, all of these costs have been covered privately by the board to ensure that all donor contributions are put to work in Kiang'ombe.   Another large expense has been travel which has all been paid for personally by Ian and Anne May and volunteers traveling with them.  We've been asked several times why we do this and the answer is simple … because we can.   Now this doesn't mean it is not a hardship, it costs a lot to travel and work in Kenya, but up until this point it has just been the right approach for us.  There's a great saying (not sure who said it), "A principle isn't a principle until it costs you money" – this really resonates with us. 
Looking ahead, in 2014 we are on solid ground for ongoing operations in Kiang'ombe and have decided to make some minor changes in our financial policies to help make our domestic operations more sustainable long term.  Up to this point we have not solicited or allowed private or corporate donations to cover anything but Kiang'ombe program operations.  In 2014 we will begin to allow donors the ability to designate contributions to cover domestic operations and /or travel for those interested in supporting our work in that way.  ALL regular contributions will continue to be used 100% for program operation in Kiang'ombe enriching the lives of some of the most vulnerable children in Kenya. 
2014 Kenyan School list! We leave 2/21/14.  Please post a comment under the list of what you want to help with!!! Someone from Ameena Project can pick up the item from you, or you can have it shipped or dropped @12190 SW Butner Rd, Portland OR, 97225! This was such a success in the past years, we are excited to see what you all come up with!
–6 Toy vehicles, 6-10 inch. (sturdy plastic preferred over metal for weight concerns)
–6 Toy baby dolls (black if possible)
–4 sets each Plastic numbers & letters
–15 boxes large sized crayons (preschool appropriate)
–Any number of Thematic books (nature, animals, seasons, transportation, cultures, foods, plants etc)
–Preschool level books with Bible or value themes
–Dozen or more Game dice (larger sized if possible)
–Supplies to restock the 1st aid kits e.g. Band aids, neosporin, antiseptic wipes, anti fungal cream, burn cream, other ideas welcome
–Latex gloves sized medium
–10 preschool wooden puzzles, any theme
–20 plastic jump ropes, good quality so they last!
–1 LED solar lantern
–2 Bicycle pumps with extra needles
–3 Pairs sunglasses, 1 women's, 2 teen boys
–1 Full/queen size comforter, any color
–1 Pair teen boy soccer cleats, size 6.5
–1 Digital camera pref. Canon Elph
Financial contribution towards Tech bundle for all 5 staff ($400 total) to increase on the go communication/internet access.
Lining up for cake at the second anniversary celebration of Ameena Centre
January 2014 Newsletter
Kiang'ombe community members and guests at the anniversary party pose outside of Ameena Centre; Guests enjoy cake – a rare treat in Kiang'ombe. 
Year in Review
2013 was full of adventure and advancement for Ameena Project. Here's a quick glimpse of highlights from the year:
January - Ian and Anne visited Kiang'ombe (read one story from the trip here).
February - Craig and Natalie Prins organize the Expressions of Love concert featuring an acoustic performance by American Idol finalist and singer-songwriter Haley Johnsen. It raises funds and introduces the Salem community to Ameena Project.
March – Kenya elects a new President peacefully.
May - Arco Iris Ameena Project Fundraiser lead by Caitlynn Lee.
June -  Christian Isakson shares AP partnership on Portland's  KATU Channel 2 AM Northwest morning show and we welcome a new board member, Jenn Sanow.
October - Tia Over of The Mathews Group steps up to volunteer her marketing expertise and NW Scrubs runs another promotion to benefit AP.
November - Ameena Centre has another anniversary with singing and speeches from staff, parents, village elders, department of education, department of social service and other local charities. Staff and guests celebrated a year of hard work and the great impact this love in action is having on the children and community. Guests enjoyed a special meal, cake, and creative activities prepared by Ameena Centre staff and parents. "All of our little ones were given a new pair of shoes purchased locally, and there was lots of laughing and playing as the community enjoyed being together," says AP co-founder Ian May.
December – 14 more kids are ready to enter primary school for the first time this January, we served more than 30,000 meals in 2013, and we give thanks for once again being able to keep to our original goal of 100% volunteer run operations here in the States, with a full 100% of your donations going to feeding and educating children in Kiang'ombe, Kenya.
Anne and Ian are visiting Kiang'ombe next month to do Ameena Centre staff development, project review, and annual planning. They are bringing endurance athlete Christian Isakson who will be using his skill as a paramedic to put on a First Aid and triage clinic for the Ameena Centre children and community, offering basic treatment and identifying patients who need more intensive treatment and may benefit from our medical access fund. Christian will take this opportunity to explore the core work of Ameena Project and how he might further partner with our mission and use his passion for service to help.

Question (Q). How long did it take you to save for your donation? Did you do chores, take a collection or
sell something to raise the funds?
Answer (A). A long time! I cleaned my grandpa's chairs, cleaned our windows with my brother, and helped my Mimi stuff envelopes for her real estate. I donated my birthday money and I also just told people I was raising money for Ameena Project and they gave me money! It was no problem at all!
Q. Why did you give your money to kids in Kenya?
A. Cause I just wanted to. That's all!
Q. How did it make you feel to give your money away to kids in need, and whom you've never met?
A. It made me happy because I knew they needed money for food, toys & school supplies. We are so lucky to know the Mays that can help get our money to the kids.
Q. What would you say to another kid to encourage them to support Ameena Project?
A. I would say that there's this thing called Ameena Project and they are kids in Kenya who aren't as lucky as we are so let's raise money for them! It was really easy to do and I'm going to do it again.

AP Kids take the next step – Because of YOU!

The first 14 kids we sent back to local schools last year (January of 2013) are thriving! The work the staff has done with the families has made it so that only six need ongoing sponsorship this year. That means that the others are still in school with their families successfully providing for them.
 

AP co-founder Ian May says, "This is a huge success from our perspective and exactly what we are shooting for.  Coming alongside kids who would not have a chance, eliminating barriers to education, helping families get invested and carry the responsibility themselves is exactly what we want for the program."
 

The generosity of Ameena Project donors like you means that 12 more children will enter Kenyan primary school in 2014! If you have friends or neighbors who might want to join in creating real change, please share this newsletter and encourage them to donate at www.ameenaproject.org.

Giving thanks: AP graduates headed to primary school!
As we transition into the holiday season here in the U.S., the Kenyan school year is coming to an end and our oldest Ameena Project children are taking their entrance exams for primary school. Their families are hopeful that they are accepted but uncertain if they can afford to pay their tuition. Last year Ameena Project awarded 16 scholarships for students to attend primary school. The cost is 

$70 for a child.

This is your chance to be part of a lasting change by making a donation to fund the AP "graduates" as they go onto primary school. As you put together your gift lists this season, why not give a gift of an Ameena Project donation in the name of a family member, friend or colleague. Your generosity will touch the life of the person you honor and the child it serves. Plus, your donation is tax deductible!
AP & ME
I support Ameena Project because it is pure love in action and because I am inspired by the Mays, Altrees and others in the AP family who do what everyone who has something to give should: make no excuses, and meet a need. How often do I observe a hole that needs to be filled and avoid it because, because, because … Yet when I look at the faces of the gorgeous Kenyan children who are eating, learning and laughing in a school funded completely by gifts from donors like my husband and me, I am challenged: what is stopping me from doing more? Am I afraid of what it will be like to give more of my time, in prayer and volunteerism, and money? But when I become more aware of living conditions in Kiang'ombe – the crime, the malnourishment – it makes any budgeting I have to do in my squishy Western world seem silly. Am I afraid that giving more won't create real change? But that's another thing I love about AP. AP is 100% volunteer-run here in the U.S. (did you catch that? one HUNDRED percent) and our donations go directly to pay for the heaven-sent teachers, security guards, cook/administrative assistant, food and teaching supplies that offer hope to an entire community. I can do more. But I've made a start. Won't you join me?
Tia lives in Beaverton with her husband Andrew and their two children Lily and Dylan. She is vice president at The Mathews Group and has supported Ameena Project since 2012.

Collateral benefits


We focus a lot on the children of Ameena Project, but our staff are another success story for our program. Because the school is in operation, five adult Kenyans have a steady income. "I like to call it a 'collateral benefit' of what we're doing," says Anne May, Ameena Project co-founder. "Yes, the school serves children and families but its strong ripple effect can be seen in the difference it has made in the lives of our staff. With their salaries their families live more secure in safe housing, they have electricity and access to medical care." In future newsletter editions we look forward to sharing our staff members' stories with you.


Food for thought
Recently the New York Times has run op-eds on Kenya, charitable giving and humanitarian aid. By sharing these pieces we don't implicitly endorse them, but they did get us thinking.

Year-end in Kiang'ombe


December marks the start of summer vacation in Kenya and a special time in African culture when people travel home to visit families and recuperate. Ameena Project teachers and staff will also enjoy this much-deserved break. Unfortunately, with this break comes a spike in living expenses in Kenya when everything doubles in cost so it can also be a stressful time of year. That said, we'd love to be able to do something special for the kids and staff by giving them a year-end party. Any "extra" donations we receive will help us throw a party for them to celebrate these incredible little (and big) people on another year of learning and love!


We're Social
If you haven't done so already, please "Like" Ameena Project on Facebook to receive updates and show your Facebook friends you're an AP supporter. We also encourage you to forward this newsletter onto your friends, families and co-workers. Help us spread the word – you never know who you might inspire to come on board!
Check out this amazing local business with a big, big heart. Buy some scrubs today and help us help kids in Kiang'ombe. Please pass it on to friends in the scrub wearing business, this won't last long and we want to get the most out of this great opportunity.
Help us make a difference this November! We will donate 10% of ALL SALES to The Ameena Project during this promotion. Let's work together to feed and educate those who need the most help. And save on your scrubs at the same time! Please share this important promotion by liking it!! You can get started by saving on your scrubs and helping us build a big donation at www.nwscrubs.com .
"Success is the sum of small things repeated day in and day out" – Robet Collier.  
This month Ameena Project celebrates a full two years since teachers Mercy and Hillary approached Ian and Anne about starting a new school.  While in some ways the time seems to have flown by, and so much has been accomplished, in other ways we find ourselves falling into the "American dream" of wanting it to be BIGGER, better, MORE.
When these thoughts creep in, we remind ourselves that the goal of Ameena Project isn't to build big, beautiful things that draw the accolades and attention of others.  What Ameena Project is about is the process of coming along side of local people to enable them to better their communities.  For whatever reason, we have been blessed with material means here in the West and with that comes great responsibility.  For now, that means the process of running a preschool and feeding program, day in and day out.  It isn't fancy or exciting (honestly, how many blogs or pictures can we share of kids sitting down for porridge and learning their ABC's), but it is amazing and brings opportunity and hope to a group of people that otherwise might not experience it.
Here in the States, our Ameena Project team meets regularly to discuss future plans and growth.  We have been waiting to hear about the process of demarcation (property titling/deed–ing) in Kiang'ombe, by the government of Kenya,  making this area not one owned by the government and squatted on by these peoples, but one that could be legally bought and sold.  There have been several scenarios we have worked through to acquire a more permanent right to a school space, but unfortunately the demarcation process is being contested and is going through the court system.  This could go on for years…..so in the meantime—we go on with school, and feeding, and encouraging little children and families–and wait on dreams of permanent school buildings and space.  This is an ever present reality in Kenya and much of Africa and the developing world—hurry up and wait.
As summer comes to an end here in the states, spring is right around the corner in Kenya.   September
marks the start of the last term in Kenya and the last  chance for many of our preschool children to attain the
prerequisite skills for the primary school entrance exam.  These children need to have solid skills in number and letter knowledge, and also in the national language of Kiswahili.  Often, kids from slum communities like ours will speak a tribal dialect (in this case Kikuyu), and will not have the Swahili language awareness needed for school.  Coming to school daily and interacting with our staff gives them the necessary understanding of Swahili that they will need to perform well and gain entrance into primary school.
In our continuing relationships with friends and communities in Thika, Kenya, we (Ian and Anne) are consistently approached by people needing help and assistance with medical procedures or medications that need to be given, and cannot be afforded by the family or individual.  At times, this might be as inexpensive as assisting with the medical card and treatment of a wound ($10), at other times, it is getting ultrasounds, MRI's and CT scans ($100-$200) or life saving surgery ($1000).  All of these procedures are easily accessed in Thika, if one can afford to pay for them.  While we have been personally helping these people outside of Ameena Project, we would love your input on the thought of a Medical Access Fund through Ameena Project that is essentially money set aside to assist individuals with medical procedures and medications.  We would have a staff member available to screen fund applications and also to track the progress of the medical treatment.  It is exciting to think that we could help is such a BIG way, with relatively little effort and risk on our part.
We want to also remember as we write all of these things to thank each and every one of you who has helped make Ameena Project a reality.  We want to publicly acknowledge the volunteer work of Megan Steele for the last year and a half.  Megan was instrumental in helping us secure our non-profit status and to get quality graphic design services.  Shari Altree and Jenn Sanow continue to leverage their knowledge, contacts and passion to move our project forward, and for this we are greatly indebted.  To YOU, our financial supporters, you make this dream and passion a reality, and encourage us daily with your faithful and often sacrificial giving. If you are reading this and are not financially supporting us, we always welcome your tax deductible support, and encourage you to sign up for monthly giving!  A donation of $30/month or greater makes a great impact, and you can be assured that 100% of your funds, unless otherwise specified by you,  goes directly to the work in Kenya!  This in itself is hard to come by in the non-profit world today.  No fancy bookkeeping, just 100% of your money helping kids and families in Kenya.
As Ameena Project has come together it has been remarkable to watch as people step in to help in creative and inspiring ways.  A story is being told here that is bigger than all of us and new characters pop into the story, often when we need them the most.  All of our fund raisers have been put on by families or individuals who felt inspired to play a part and we love to watch you work.  A new friend of Ameena Project, athlete Christian Isakson, has some sweet new ideas in the works and we are honored to have such a passionate and talented new friend.  Our Friends of Ameena Page has some fun highlights of how others have chosen to get involved.   We believe that people live out their innate purpose best when actively using their time, talents, and the resources they've been given in the service of others.    We hope you find your place to make a difference!
As many of you know, Anne and I visited our program in Kiang'ombe in late January.  Our objectives for the trip were to do more in depth community needs assessment, review program operations, and complete annual planning for the coming year.  We spent a lot of time with our staff,  with the kids,  and in the community all of which was incredibly encouraging and inspiring.  You can view some pictures and notes from the trip if you scroll down to previous updates or take a look on the A.P. Facebook page.   In spite of the real and somewhat overwhelming need in Kiang'ombe, there is a tangible sense of hope and appreciation everywhere surrounding what the community now calls Ameena Centre.   As more kids and families get involved, as they see the great impact our staff's efforts are producing in their children's lives,  positive change is sprouting up – often in unexpected places.  
One great story is about a boy named Kenedy who was with us all last year.  Our staff got him healthy, prepared for school, he passed his exam, and as of January this year he is enrolled in the local public school for the first time.  His teacher called to follow up and reported that he is top of the class, a  voracious learner, and a joy to have in class.  This is exactly what we're shooting for with every child in the program.  Kenedy is one of 16 children who completed our program this past year and are now enrolled in local public schools.   His mom has finally understood the value of education, having seen the transformation in her son she is doing everything she can to support her other children's success. 
After much discussion with the community and our staff, we all agreed on the most pressing needs for 2013.  First of all, we planned this project for 50 kids and have been running at 75-80 all year, not an easy job but we pulled it off.  We had to hire a reliever to cover extra security needs and to assist in the kitchen.  We also decided to sponsor the 16 children who graduated our program so they can get established in local schools.   Investing in them just seems like the right thing to do, especially when it cost under $70 per child per year.   To cover these basic program increases we need to raise an additional $260 a month right away.   It's really easy to make a one time donation or sign up for a recurring donation here on the web site.  Right over there
—->
In 2012 we were able to build a new classroom so that we can separate kids by age and ability to really maximize the learning they receive.  However, we do not have the funds to hire the teacher and teacher's assistant needed to staff the second classroom.  $3000 a year, or $250 a month would accomplish that goal.  Imagine the impact of hiring two new teaching staff, dramatically improving the learning environment, and being able to help even more kids have a chance like Kenedy.    We've been working hard to raise those funds, here's one example how. 
On February 15th, our dear friend's, Craig and Natalie Prins, held a benefit concert at a Coffee shop in Salem.  The Portland crew headed down on a chilly Friday evening to attend their event, it was an amazing night.  Craig said it was like all of his people, his passions, and his various worlds coming together.  Now when Craig said he wanted to do this back in September I have to admit it did cross my mind that organization and sustained focus (important parts of event planning)  are not what I would think of as his signature strengths.  However, this evening proved to me once again that when we step out of our comfort zone and courageously follow the inspiration of our spirit it usually works out just right.  So much more was accomplished during this event than the funds that were raised, it was a truly inspired evening.   In the end, they brought in enough for us to serve 15,000 more meals in Kiang'ombe, what a gift.  Here's a short peek inside the coffee shop that night.  Thank you everyone who participated in any way, together we are accomplishing something very special.  You are Ameena Project!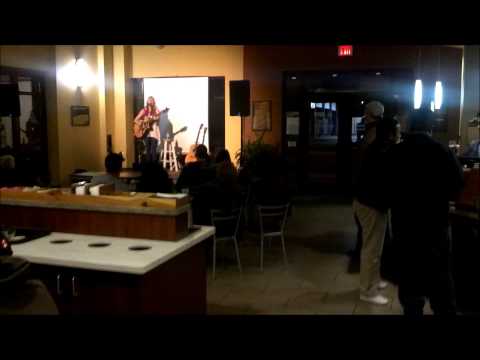 Come learn more about WHAT we do and WHY we do it.  
Learn more and follow our progress on HERE!
.
In Kenya, the school year starts in January and over the entire year of 2012 we worked hard with our older students to prepare them for success in the local school system. We fed their bodies, minds, and spirits creating dramatic changes in all of them.  16 children completed our Early Childhood Development program and were ready to move on to primary school. For those children, we committed to removing the barriers for them to enter school by providing their uniform and school fees for the first year – a total cost of around $70  per child.  This will allow them to get connected to their school and give their parents a chance to plan for subsequent years' responsibilities. We'll be following up and working with parents all year to make sure they are able to keep it up. Most of these children would have never been academically ready and the first year costs would have been an insurmountable barrier to many.
We believe these kids deserve a chance to learn and if we have our way, they're going to get it.
Since arriving in Kiang'ombe I have been pacing the school grounds back and forth, looking out of the gate, waiting for the day when we would visit in the community with the village elder. I've felt a bit like a caged animal, not used to having to have an escort to make my way around. Getting to know these people is what I truly loved about living in Kenya and still enjoy when we visit—at the heart of it all, there are so many amazing stories, both tragic and inspiring that give me hope, joy, and inspiration. I love to be present in the midst of it all.
Today, shortly after entering into the Kiang'ombe community, we came upon Isaac's home. Isaac was the 5 year old boy attending Ameena Centre this last year, whose mother was found dead in the house with him one morning. As we entered into a wild green yard surrounding the small house that belonged to Isaac's grandma, and called out a greeting of "Hodi!", a short elderly woman exited a curtained shack. Our escort explained that we had come to see Isaac's home, and the grandmother waved over to another small building and indicated in the Kikuyu dialect that Isaac stayed there with his brother. I entered the building, a scant 6 foot by 8 foot space, crammed with a bed, belongings and a bike. As I stood inside, Isaac's grandmother entered and we asked whether or not they had found out how the mother had died.
The grandmother paused, a pained look on her face, and then shared in Kikuyu how Isaac's mother had suffered from an untreated abscessed tooth. The infection had spread into the tonsils, causing them to swell and block her throat, leading to her death by suffocation.
The grandmother started to cry. I felt myself well up too and had to turn my head. This is life here, especially in Kiang'ombe, and while people grieve, they also have to keep on with the rhythm of life….finding ways to get a little money for food, fetching water from the one water pipe in the center of the community, cooking food, washing clothes, cleaning out the house and caring for others.
I tried to lighten the uncomfortable moment by asking the grandmother how old she was, thinking that she must be a few years older than my mother (really, they don't take offense to that question here)…..she just shook her head and mumbled "I can't remember". My escort indicated that she was too shaken up over the memory of her daughter to talk any more. I felt a bit foolish for my silly attempt to lighten the mood … I wish I would have been able to rest in the heavy moment better with her.
We thanked the grandmother for allowing us in, and as we were leaving our escort finally explained who we were and that we were the ones partnering to bring the school to Kiang'ombe. That we were the ones helping to send Isaac on to primary school.
Isaac's grandmother's face lit up, and her mood was brightened … enough for her to want this picture with me:
Yesterday while visiting homes in Kiang'ombe we came across a house that at first appeared vacant.  A quiet cry drew us in and alone inside we found a woman in bed nearly unable to sit up for the pain she was in.  When asked what was wrong she initially said she was sick but shortly revealed she was badly injured from a motorbike crash.  She had been home alone since the crash and had not gone to the hospital because she could not afford the required medical card ($ 1.25) or transport ($.75). 
She showed us her lower leg which was badly injured, there was an  8″ x 4″ open wound that appeared very infected.   A horrible circumstance and one I was convinced would end her life if not urgently addressed.  I'm no doctor, but anyone could see this was very bad.  We found a neighbor girl willing to help and had her take this woman to the hospital and told her we would follow up tomorrow. 
Today the two of them came to give a grateful report.  The woman was already able to walk again, is on antibiotics, and will go in daily to have the wound cleaned and assessed.  She was found to have tetanus from the wound as well and was given a shot to treat it.  Such a happy outcome for a terrible situation.    
I share this story for one reason: to illustrate the dramatic reality that very little can do very much.  It cost $9.50 all together to get this woman the treatment she needed,.  Although hard to fully comprehend, this is life in Kiang'ombe and if you are involved in Ameena Project we make sure your contribution counts.  Thank you. Ian
Following the recent events in Oregon at Clackamas Mall, and then in Connecticut, with so many innocent lives being stolen, I have been experiencing a suffocating sense of sadness and heartache deep in my soul. In a quiet moment of reflection I realized that these feelings were all too familiar.
I sat and thought on when I might have had this overwhelming sense of sadness…this grayness that creeps up into every moment of the day, the sense that our world was never meant to be this way.
 And then it hit me.
 These were the same familiar feelings that I experienced for about 1 year after leaving Kenya and returning home to life here in the United States.
 Desperation, grief, loss, sadnessand anger after bearing witness to terrible acts and circumstances.
Weeping at the thought of the cruelty of this world. Of children being stolen, women raped, beaten and disregarded, murder, deceit, children going hungry and dying slow, scared deaths. These were events that were routine experiences in Kenya among friends, neighbors, and employees. Upon coming home, I struggled with explaining the intensity and heartache of it all. Of what it means to be a witness to such horror and the feeling of not being able to do anything about it? How can you explain to your girlfriends that you sat on the floor weeping for these people now half way around the world?
It's the same feeling now. Except, the difference is, most everyone in America feels it too. You can just say Connecticut, or "school kids" and everyone nods without more words being spoken, there is a mutual understanding of the unfairness and evilness of it all. A shared sense of grief, a hunt for the "cause" and a wish for there to be an answer.
After experiencing that year of feeling "unsettled" after returning from Kenya, knowing that daily, while we lived here in our comfortable life, others struggled through no fault of their own…..it was such a blessing and relief to be approached about partnering to create real and lasting change in the lives of the most desperate and helpless there. Are we doing anything earth shattering? No! But we are doing something, it's not that hard, and it makes a big difference.
Are we entering into relationship with other human beings and sharing in their hurt and their triumphs? Yes! I truly believe that this is the central step in bringing about change in this world….being willing to enter into the grief and heartache of another, experiencing that discomfort and knowledge, and then being open to acting on it.
The alternative? Insulating our selves, covering our eyes and ears to these horrors and pretending that they don't exist. Telling ourselves that those people brought it onto themselves and being shocked when these events occur in our own neighborhoods and communities. 
It's no more a child in Connecticut's fault than it is the fault of the women bought and sold for sex or the child sitting listless in the dirt, starving and ill. The good news? Each and every one of us is able to do something about it—not in the same way, but in the similar way by allowing ourselves to be vulnerable to the hurt and loss of each other. Loving one another. Sharing with one another. Being real, raw and dirty with one another. Using what we've been given to make the biggest difference we can.
Each and every one of us become the solution to these deep problems in our world when we reach out to the suffering, marginalized, and forgotten among us. When we look for opportunities to get involved and make a difference in the lives that intersect ours.  Wherever it is you choose to make your mark, be encouraged and carry on, action rather than intentions or ideas  is what solutions are made of.    Anne
Dear Friends,
    As 2012 comes to an end we wanted to send out a letter to share more details about the work being done through Ameena  Project.  Since it's inception in September 2011, progress has been brisk! Initially, we partnered with a fiscal sponsor and shortly after acquired our own non-profit status! We were blessed to have a variety of folks mentor and guide us through a somewhat foreign process!  We have been able to keep to our original goal of 100% volunteer run operations here in the States, with a full 100% of your donations going to feeding and educating children in Kiang'ombe, Kenya .   
     In wrapping up our first full year of operations we can't help but be amazed at how things have worked together for this good.  We have developed a core group of volunteers here in the states to manage all of the domestic administration required to operate the non-profit.   Recurring monthly donors currently cover nearly 80% of our ongoing Kenyan operational costs, and we have a small cushion in the bank. Generous people have surrounded us and given time, talents, and funds so that we are now in a position to discuss further program development.  Anne and I will be traveling to Kiang'ombe in January to meet with our staff and community partners to fully explore how Ameena Project can deepen it's impact.  Yes, that says deepen, not broaden.  Over the past few months we've been challenging ourselves to focus on growing Ameena Project deeper, not just bigger.  A question we discuss often is, "How can we leverage our resources to benefit these specific kids, in this specific community, long term, in a culturally appropriate way?
    Since opening our doors in January, we have been consistently running way over capacity with 75 children in a program designed for 50.  We've served 30,000 hot meals to hungry kids and have seen the dramatic changes adequate nutrition produces. Sixteen of the kids attending our program are now school aged and academically ready to enter local primary schools in January when the Kenyan school year starts.  Ameena Project has ensured that these kids are ready for school prepared for success.  We have also decided to continue supporting these children as they move on.  With your support, we will be providing the essentials for them to attend and succeed in local public school.  While Elementary school is technically free in Kenya, there are often  other associated costs that become insurmountable barriers for those in extreme poverty. At Ameena Project we've decided to eliminate those barriers by providing the uniforms, school fees, and lunch fees these children.
    We have had many fundraising efforts over the year and feel humbled by the flood of ideas and inspiration you have brought to us.  Not only are we focused on meeting critical needs of children who attend our program in Kenya , we are also committed to impacting lives right here at home by creating a place to plug in, get involved, and use your passion and talents.  We believe that people live out their innate purpose best when they are able to use their talents to meaningfully help another human being. Can you remember back to March when you all donated supplies that we took to stock the classroom?  It seems ages ago, yet that was just 9 months ago.
    Shortly after returning from that spring visit, an enthusiastic supporter named Lara approached us with the idea of a benefit concert, at her home, in August. She put on a wonderful Evening in the Country that raised enough money to take us from touch and go financials to the beginning of financial stability.  Others of you have given us strategic fundraising advice that enabled us to broaden and deepen our support base.  A group of great girls, The Bracelet Bunch, has repeatedly made it known that kids have big hearts and big ideas.  They have creatively raised money on their own and made regular and ongoing donations throughout the year.  NW Scrubs decided to get involved in a big way and in a two week online promotion raised enough to build a new classroom, new cook house, and new covered patio – all under construction now.  Just this week the local chief, various NGO directors, the staff, community, and kids had a big party celebrating the one year anniversary of operations in Kiang'ombe.  This wonderful time of new hope and optimism was funded entirely by two girls in Salem who decided to use their own birthday party as a fundraiser.  Two girls with global compassion have thrown a party for a whole community.  Read more about Lauren and Amelia HERE!  Other kids have worked independently to plan and execute fund raisers at local schools–what a practical way to learn about community, economics, altruism and the entrepreneurial spirit. 
     Looking back, Ameena Project has come farther than we had ever hoped in 2012.  All of our goals were met and we are now positioned to move into a future that is truly beyond what we had ever anticipated.  We've been able to accomplish all of this under our original monthly budget of only $1575.  So little has done so much!  Our 5 Kenyan staff have worked tirelessly to lay down a solid foundation on a shoestring budget and we couldn't be happier with what they've accomplished.  The community is rallying around the program and developing a strong sense of shared responsibility and investment in it's success.   
     To everyone who has played a part in what has been accomplished this year we say well done and be proud of what we've done together!  Hope, joy, and new opportunity has been brought to some very needy kids and the community of Kiang'ombe.  At times we have a hard time believing that so much progress has been made this year, but it all is very real and powerfully impacting to everyone involved. 
Here are some of our upcoming needs for 2013:
    – Public school support for 16 graduating children (uniform, school fees, lunch fees) – $70 per child per year.
    – Cost of Living pay increase for employees starting Jan 2013 – Amount TBD
    – Desks, chairs, blackboard, and educational supplies for our new additional classroom – $1200
    – Monthly Donors – sign up online for a recurring donation to support our ongoing operations. We are still a few hundred dollars short of having operation 100% covered,            even at our current budget.
We are humbled and encouraged by your current support and can't wait to see what this new year brings!
With thanks,
Ian  & Anne May