Ian and I were invited to a party celebrating the birthday of a NGO (Non-governmental Organization) Director this last weekend.  Our first evening out…without the kids.   We were both excited for the break.  We love our kids and all, but sometimes you need adult conversation that isn't interrupted every 30 seconds or so.
We arrived at 7:10 to the birthday party slated to 7am.  Our first mistake.  Our friends in Portland should have taught us something about arriving fashionably late to social functions!    A dutch friend that we had met earlier faired much better with his plan of arriving at 9…he arrived instead at 8pm, right when the party was getting hopping!
Anyhow, a birthday party for a young English woman in Kenya looks like a bunch of African food (chipati
beef Stew, kachumbari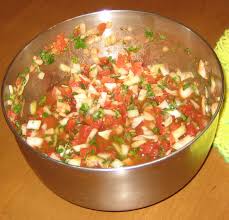 rice, chicken on the bone (lot of them) and an assorted variety of drinks alcoholic and non.  My favorite of the evening was the avocado smoothie.
Anyhow, as the birthday girls' flat was quite small, we quickly were cozied up with several other folks and the conversation quickly flowed.  At one point, after some rising from his friends about playing Play Station nonstop, even til 4am, the Kenyan made some remark about "all you Americans with your guns".  To which, the dutch man sitting with us exclaimed "Yeah, like this" and proceeded to pantomime drawing 2 guns from his waist belt, and aiming them sideways at us.  Two Kenyans sitting with us agreed about "All of you Americans hiding guns in your pants.  If you rob them, they will shoot you."  Ian and I had to laugh and so "No, it isn't really like that".
What is America exporting to the rest of the world?
Well, regular broadcast television here in Kenya imports:  Law & Order, NCIS, House, The OC, That's So Raven, America's Next Top Model (gotta have Tyra in Kenya) and CSI.  Probably COPS too, but I haven't seen it yet.  Guess that might explain why they think we all are walking around with pistols stuck down our pants.
So, yesterday, as we're checking out this Dutch guys' children's home, and we're walking around with the kids and the director's wife, Eli exclaims, "My daddy has some gum".  The director's wife, who is Kenyan says, "What?  Your daddy has some guns?"   Yeh, that's what most kids run around saying out of the blue.
Guess we're going to have to work on the American image a little.  Has the NRA been over here running commercials or something?
For the record, I'm not against guns  (ok, well, I don't really want them in my house).   We just don't walk around with them stuck in our pants.